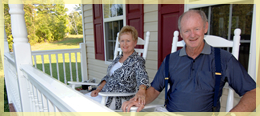 There are lots of good reasons why Green Haven Assisted Living is the best choice for you. We give you the following grounds for choosing us.
What are they?

It is our mission to provide the highest quality of eldercare services to senior members of the community. Our goal is to promote the emotional, physical, and social well-being of our residents.
Read more.

Testimonial

There is no harder decision that a son or daughter has to make than the living arrangements and special care of a loved and aging parent. There will eventually come a time when we as adults can no longer adequately take care of an aging parent or a parent with special needs (dementia, Alzheimer) , as the primary caretaker.
The decision becomes "How do I provide the best care and quality of life to a parent that was always there for me?" This decision becomes even harder as we hear the numerous cases of neglect and abuses in senior care facilities. However the reality is that we as educated adults must do our "due diligence" research to find an affordable senior care facility that meets our loved ones needs.
After personally making this decision a year ago for my mother...I can state that I and my family are ecstatic with our choice of Green Haven. Green Haven has provided our mother a well managed homelike environment that not only takes care of her special needs...but where she is loved and treated with dignity. The caretaker to patient ratio is superb. Our mother not only loves her new home but has thrived in her new primary home. The caretakers and nursing staff go out of their way to tailor the care to her needs...and this started from day one! On my mother's move in day, our fear and anxiety was quickly resolved by the professionalism, warmth and skill of the Green Haven staff. If you need to make this decision ...that millions of us must make... I highly recommend that you place Green Haven on your list.

Lawrence Rouse
(Lawrence is our current resident's son. You may contact us for testimonial contact information at greenhavenasl@verizon.net or call us at 301-336-0684).