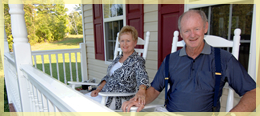 There are lots of good reasons why Green Haven Assisted Living is the best choice for you. We give you the following grounds for choosing us.
What are they?

Our Mission / Vision

It is our mission to provide the highest quality of eldercare services to the senior members of the community. Our goal is to promote the emotional, physical, and social well-being of our residents.
We want them to feel the luxury of everyday living, while fully enjoying their stay with us—no hassle, no stress.
We want you to know it is our mission and vision to provide the proper care for you or a love one. Contact us and be a part of our family.