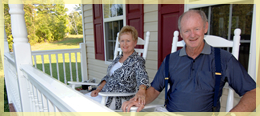 It is our mission to provide the highest quality of eldercare services to senior members of the community. Our goal is to promote the emotional, physical, and social well-being of our residents.
Read more.

Why Choose Us

There are lots of good reasons why Green Haven Assisted Living is the best choice for you. We give you the following grounds for choosing us.
Comfort
In finding a eldercare home, a future resident needs to be sure the comfort it offers is right for him or her. Our caregivers and registered nurses are always ready to assist our residents; our facility has a clean fresh atmosphere, with all the comfort of home. It is truly a place to call home.
Ambience
Our residence possesses that homey feel. This will help you relax, be at ease, and feel right at home. You will be treated as family.
Security
Located in the peaceful neighborhood of Mitchellville, Maryland, our residence is well-equipped with door alarms, smoke detectors, and 24 hour alarm system. Your safety and security is our priority.
We are the right choice. Contact us today.