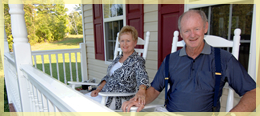 There are lots of good reasons why Green Haven Assisted Living is the best choice for you. We give you the following grounds for choosing us.
What are they?

It is our mission to provide the highest quality of eldercare services to senior members of the community. Our goal is to promote the emotional, physical, and social well-being of our residents.
Read more.

Contact Us

We would be very glad to hear from you. Please do not hesitate to give us a call if you have questions, inquiries, or comments.
You can reach us through the following contact information:
Green Haven Assisted Living Facilities:
Mitchellville Location:
11509 Burning Tree Court
Mitchellville, Maryland 20721
Bowie Location:
15804 Presswick Lane,
Bowie, Maryland 20716
Phone : (301) 336-0684
Fax : (301) 324-2366
Email:greenhavenasl@verizon.net
You could also send us your message by submitting the completed form below: