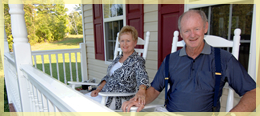 There are lots of good reasons why Green Haven Assisted Living is the best choice for you. We give you the following grounds for choosing us.
What are they?

It is our mission to provide the highest quality of eldercare services to senior members of the community. Our goal is to promote the emotional, physical, and social well-being of our residents.
Read more.
Green Haven Assisted Living Facilities:

Mitchellville Location
Bowie Location
Phone :(301) 336-0684


About Us

We are an assisted living facility located in the peaceful neighborhood of Mitchellville, Maryland. We hold the appropriate state license to exist and operate business in the state of Maryland. Our staff has completed all required training, as mandated by the state body overseeing assisted living. We are a level 3 provider, providing care to residents who require some assistance or total care.
Our staff members are passionate, caring, easy to talk with, and are fun to be with. They understand the essence of why our residents choose Green Haven Assisted Living. Like "haven", we are here twenty four hours every day for your protection and safety. We are family!
Green Haven Assisted Living is about quality care, while preserving residents' dignity, independence, and privacy. The individualized service(ISP) plan is one of the tools used to reach that goal. It contains details of services for which the resident needs assistance or complete help. The ISP contains, but not limited to, information about the resident's diet needs, activities of daily living(ADL)—bathing, grooming, shower, bath, personal hygiene, eating, and medication management. We are truly about conscientious compassionate care . . . come and join us soon.