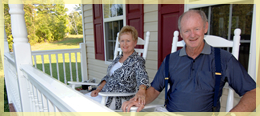 There are lots of good reasons why Green Haven Assisted Living is the best choice for you. We give you the following grounds for choosing us.
What are they?

It is our mission to provide the highest quality of eldercare services to senior members of the community. Our goal is to promote the emotional, physical, and social well-being of our residents.
Read more.
Green Haven Assisted Living Facilities:

Mitchellville Location
Bowie Location
Phone :(301) 336-0684


Welcome To
Green Haven Assisted Living
A Haven You Can Call Your Home

Green Haven Assisted Living prides itself in delivering superior care to our residents. We provide a loving home for our seniors. Spacious living areas, decorations, and the freedom to enjoy the amenities of the home, leaves residents with a "homey" feeling. We are truly "a place to call home". As the population ages, many individuals are no longer able to live independently in their homes. We provide a home-based assisted living as a viable option for them. Our goal is to provide quality care, while preserving the dignity and independence of our residents.
Our enthusiastic caregivers are well-trained, and are dedicated to the satisfaction of each resident. They give equal support and assistance to residents; tailored to the individual's need. In addition to our caregivers and managers, our staff consists of two registered nurses, who are available 24 hours per day. Together, our staff has over ten years of experience. At Green Haven Assisted Living, we deliver thoughtful and compassionate care, which our seniors deserve. Many seniors have worked a lifetime and now they deserve the best of care; our caring staff is the solution.
We encourage you to browse through our website to see how dedicated we are to our mission. Feel free to know more about us!
Set an Appointment
Please do not hesitate to set an appointment with us. We would be very glad to accommodate you. Set one!